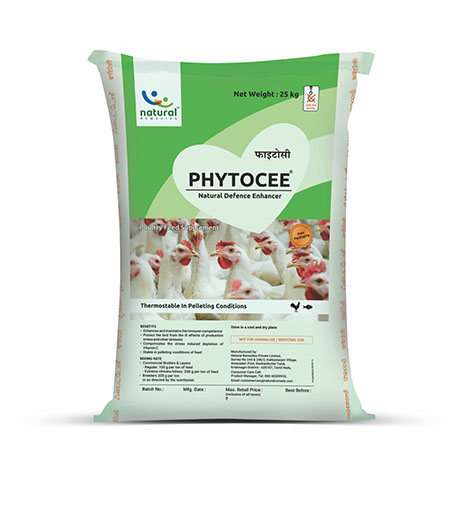 Phytocee ®
A research-based natural solution that controls stress caused by multiple stressors. It enhances endurance and optimizes the Cell Mediated and Humoral Immunity.
Phytocee is an effective combination of NR-Phytochemicals Polyphenols, Withanolides and Triterpenoids to provide a reliable defence to the swine against various challenges.
Effects of Phytocee in different stages of pigs are:
Piglets
Reduces stress during the post-weaning period.
Improves average daily gain in post weaned piglets.
Reduces incidences of tail biting and other psychological stress responses.
Finishers
Optimises body weight gain.
Lowers medication costs.
Lower morbidity.
Improvement in meat quality.
Sows
Improves the parity.
Lowers mortality among piglets.
Improves milk yield and Immunoglobulin levels in colostrum.
Reduces panting, a sign of stress.
Lowers cortisol levels during social stress evident while grouping and regrouping.
Target Species
Swine