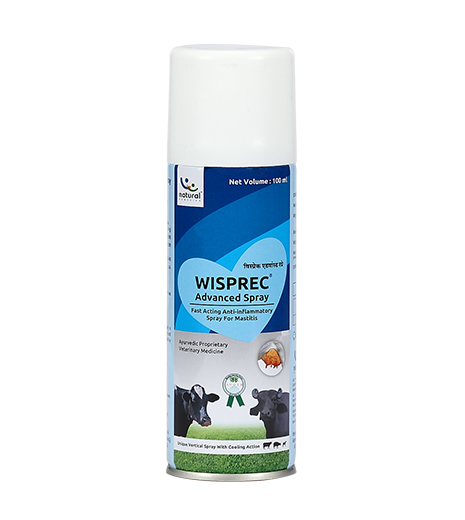 Wisprec Advanced ®
WISPREC ADVANCED is a polyherbal anti-inflammatory formulation for faster recovery in Mastitis. WISPREC ADVANCED contains 1,8 Cineole, Eugenol, Ricineloic acid, and Menthol.
Eugenol acts as a natural potent anti-inflammatory agent while Ricineloic acid acts has a soothing effect thus reducing the hardening of the udders while Menthol acts as a local anesthetic and a cooling agent too. This reduces redness and pain and facilitates easy striping of contaminated milk too.
WISPREC ADVANCED can be used in
Clinical Mastitis along with antibiotics.
Subclinical Mastitis along with anti-biotics.
Teat Cracks.
Sore udder.
Available in
200 gm Cream

1 kg Pet Jar

200 ml Spray
Target Species
Cow

Buffalo

Sheep

Goat

Horse

Camel